9 Years of having the Craic at Murphy's Law!!
Date/Time
Date(s) - 14/03/2014 - 17/03/2014
7:00 pm - 11:30 pm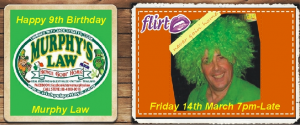 Come and celebrate with Steve the mad Irishman!! Fun and games as usual down at soi LK Metro. It's gunna be a crazy weekend.
FRIDAY………….. Murphy Law turns 9 years old this Friday the 14th March. Steve the madcap owner says "we are going to party like its 2005" Pattaya's very own Dj Brooksy will be providing the tunes and the entertainment. Which will of course include lots of free shots been given away!!!
SATURDAY…….. If your still able to drink on Saturday after Fridays shenanigans, you can catch the rugby Six Nations final down at Murphy's, with an after party to celebrate the winners victory.
SUNDAY………..you should be a shaking wreck by now after all the booze you have put away, BUT WAIT!!! Sunday is PADDY'S DAY EVE which is always celebrated at Murphy's, so strap yourself in as its going to be a Maousive weekend for all that visit the only original Irish bar in town that is Murphy's Law !!!
PS,
MONDAY……… This is the biggest day in the Irish calendar. Paddy's day, if you manage to get this far, a few days in detox is recommended on tues, weds,thurs next week!!!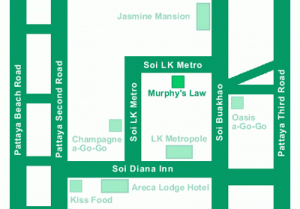 Murphy's Law
Soi LK Metro
Soi Buakhou
Tel: 085 287 3275
Location
Murphys Law Irish Bar
Attendees
Bookings
Bookings are closed for this event.