Birthday party mamasan Lisa.
Date/Time
Date(s) - 09/03/2014
8:30 pm - 11:30 pm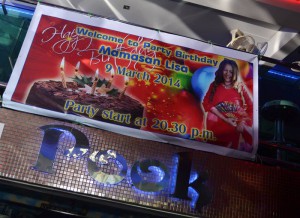 Birthday party  Mamasan Lisa will be hosting a join Birthday party on March 9th at Pook  Swan House Soi Buakhao. There will be a free thai & western style food buffet, balloons, great music. The party will start at 20.30pm till late . Join the girls to celebrate their birthdays and enjoy the fun!
Location
Pook Swan House
Attendees
Bookings
Bookings are closed for this event.