Murphys Law Rugby championship
Date/Time
Date(s) - 22/02/2014
11:00 pm - 11:30 pm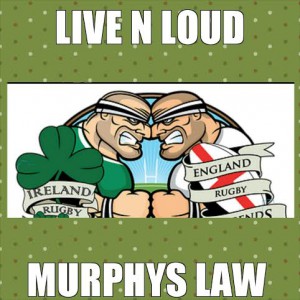 Ireland V's England in the Six Nations Championships – Game Starts at 11pm
This is potentially the title decider and so Murphys Law are going to celebrate now in fashion.
Free shots for everyone wearing their team colours.There will be a party DJ with loads of free spot prizes and freedrinks.
Just round the event off, Murphys will have the 'predict the score' competition going and the lucky winner will receive a Murphys Buffet (dread to think what thins maybe)
So come and join the fun and watch the highlight match of the Six Nations Championships at Murphys Law, Never Goin Home!
Saturday February 22nd
Start – 11pm – Finish 2pm
Location
Murphys Law Irish Bar
Attendees
Bookings
Bookings are closed for this event.