The Pier – Aqua Day & Night Pool Party
Date/Time
Date(s) - 23/11/2013
11:00 am - 11:00 pm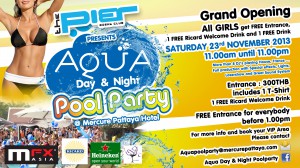 NOTE: This event will be held at The Mercure Hotel, Soi 15, Pattaya Second Road.
This is lining up to be one of the events of the year. It seems anyone of is somebody is already talking about it and everyone I talk to will be going. With hundreds of bikini clad ladies, cheap booze, hot sunny weather, a massive pool, The Aqua Pool Bar. What else do you need? There will be 8 international DJ's playing house music &  trance all day and night.
Entry is 300 THB, but with FREE entry before 1pm for the early party goers. All girls get FREE entry and everybody will get a FREE T-shirt and 1 FREE Ricard drink.
This is the DJ line up:
 DJ Rocky (TH) (The Pier, Stardice and Dusit2)
DJ Wonder (TH) (Wondersound, The Pier)
DJ Cookie (TH/FR) (Female DJ Mercure Hotel)
DJ Ferris B (UK) (Teazers, Ferris B Sessions, UK)
DJ Amp (TH) (69 Studio DJ school)
DJ Jacky (TH) (The Pier)
DJ Dennis Frost (RUS) (Motoroom Club Asia)
DJ Effy (TH) (Teazers)
DJ Marky (UK) (The Pier)
For more information and directions to Mercure Pattaya please click on this link: http://www.inspirepattaya.com/food-drink/mercure-hotel-pattaya/
Location
The Pier Disco
Attendees
Administrator
Gavin Perfect
Bookings
Bookings are closed for this event.