TT's (The Bosses) Birthday Party
Date/Time
Date(s) - 01/12/2013
3:00 pm - 7:00 pm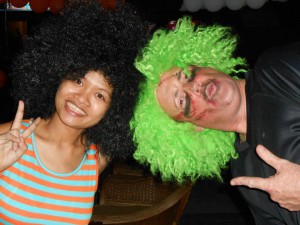 Sunday December 1st will see The Real Boss at Murphy's Law have her 25th Birthday (shame on you Steve). Ok, so she has a bun in the oven, but thats no excuse not to have a party in Murphys Law. TT will be inviting all her friends to enjoy free food from The Sportsman, live DJ, gallons of shooters, beer & a great atmosphere created by her looney other half Steve.
Beers will be Buy 1 get 1 FREE from 3pm til 7pm.
Theme is going to be hats, wigs & shades, so dress to impress. Loads of raffle prizes and fun all day.
There will be the chance to see the Flirt Freak for the first time in Pattaya and get your picture taken with him.
Party will start at 3pm. Be sure to get there early to get a seat.
Happy Birthday TT (wonder why they call her TT?)
Location
Murphys Law Irish Bar
Attendees
Gavin Perfect
Administrator
Bookings
Bookings are closed for this event.