Flirt man weekly wander – Babydoll A Go Go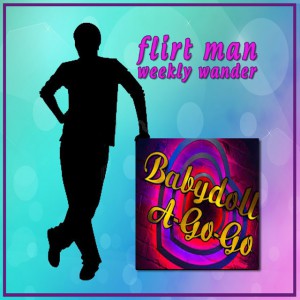 The now infamous weekly wander takes in an old favourite this week in the shape of Babydoll's chrome pole establishment down soi 15
It's worth noting from the start-off that ,although not much has changed internally in this joint, it has put a new manager in place and shipped the past resident Mr Egg round the corner to Secrets Club.
 Flirtman wandered in on a party night and made it in before the 10pm watershed of the Happy Hour. There is a good selection of Leo, Chang (bottles) and Archa beer (can) available for a wallet friendly 65 baht, all served cold and fresh, complete with a bottle napkin to ensure cleanliness.
 On this particular party evening the place was full to the rafters and i only just managed to grab a seat. For those that don't know the Babydoll's formula: it's a mixture of 8 dancing ladies (in varies states of attire) on the main stage alongside a playful soft bed area at the front and a jacuzzi splash pool at the rear.  The great mixture means that if you position yourself equidistant a simple swivel of your chair means your viewing pleasure never need get boring. In the name of decency i shall refrain from going into too much detail about the different areas suffice to say "don't eat the bananas" if your'e hungry and i'd skip ice in your drinks too. If you blink you may well think you've ended up in some amateur gynaechologist convention ! 
The all important ladies lineup displayed a wide variety ranging from less than glamourous to a few worthy of a second glance but mostly what sets this place apart is the fun factor most of the girls have instilled in them. Having said that, you will be accosted almost immediately by a dancer and given the obligitory handshake and "where you come from". This sort of stuff is water off a ducks back for the Flirtman but could be intimidating to a newbie. I'm guessing the approach must have a high rate of success judging by the many mongers sitting with an angel of their choice.
Music wise the fair is quite modern without being in the "wow thats a good tune" category and it's at an acceptable volume level. If you do get bored with the multi angled podiums you can watch some footie on the rear screen however i get the feeling this may just be there for no purpose whatsoever.
The only few things that remain to be said is that the beer after happy hour pops up to 95 baht (still good value) and try and catch the next party as the food they put on was simply superb. They had shepherds pie, lasagne, steak pie, chicken etc etc. i dunno who does the catering but it wasn't your cheap rubbish. 
Babydoll's soi 15 gets a well deserved 8 out of 10 and would have scored more if the ladies let the punters do the choosing rather than the railroad approach.
Join me again next week when i pop into one of the more obscure gogos and see if i can find the worst one in pattaya and remember the flirt man is saying it like it is (without payment) and visits totally anonymously.