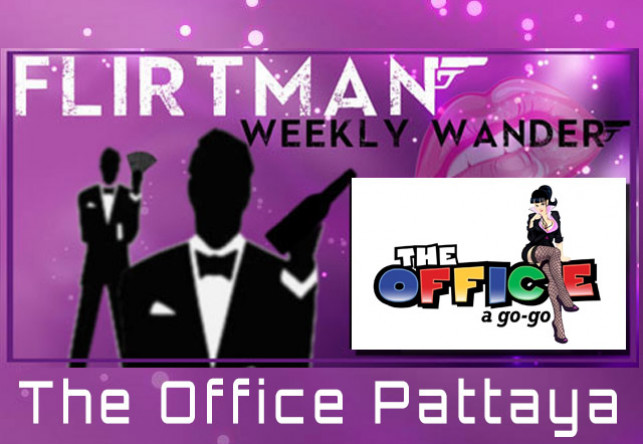 Flirt man's Weekly Wander : The Office Pattaya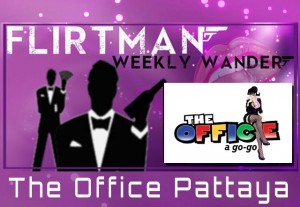 FlirtMan's Weekly Wander : The Office Pattaya
When FlirtMan happened to tell Mrs Flirt that he was going to be in the office late, he was really telling the truth for a change because this week's Wander takes in The Office Agogo ( LK Metro ).
The colourful interior is the first thing that strikes you as you enter and this goes with the multi-coloured neon logo attached to the wall.
Most of the seating is of the 2 tier bench style with the rear great for hiding and the front seats having better stage views. These squeaky red plastic front seats must have the smallest drinks tables i have ever seen but you'll still be glad of the comfort compared to the small poofy stage seats that will have your neck straining at a 45degree angle. The good news is that the stage area itself is a double poled design so can handle a good fair few maidens in distress (although Flirtman counted max 6 onstage at any one time) I guess the extra spots are for the obligatory star wars themed round up that some gogos do. If your in a larger group then look out for the corner sections as they have a bigger area and table.
This large unit gogo is filled with lots of girls adorned in sexy secretary outfits as well as a rotation of hot-pants dancers mixed in with the odd Cleopatra show' so you'll not be bored in a hurry as there is always something to gaze at. There are a nice selection of hot chicks, all with nice figures, in here and they certainly are a fun lot.
The Office has just celebrated it's fourth birthday so these guys must be doing something right and certainly the place was pretty full on this evening's visit.
They do the standard draft beer at a reasonable 60bht so a visit here wont break the bank and also look out for their themed evenings such as "Vintage" night as well as regular party evenings.
The Office is definitely a great place to pop in and see whats happening. Whether they can weather the storm from stronger local contenders such as Champagne and newly opened Malibu Club still remains to be seen. Its really time for the some guys in this Soi to step up their game. Internal Soi squabbling is all fine and dandy but let's hope it's the punters that win in the end.
The Office gets a decent 7 out of 10
Remember the flirt man is saying it like it is (without payment) and visits totally anonymously.