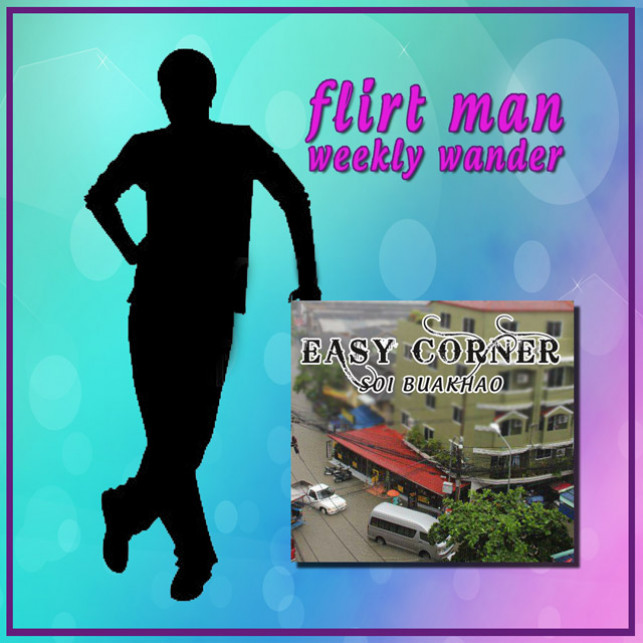 Flirtman Weekly Wander – Easy Corner Bar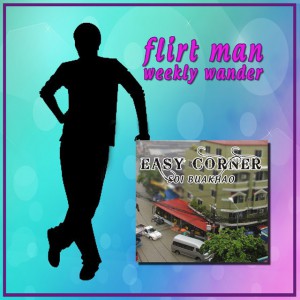 This week the Flirt Man decided to boycott the Gentleman's Club scene and relax in a good old fashioned beer bar complete with fishing ladies and shouts of "sexy man..where you go".
A wander up Soi Buakhao had choices jumping from left and right but the most enticing and appealing was located at the top end bend across from RCON hotel and named "Easy Corner Bar". In the modern day Pattaya with it's sprawling bar complexes, Easy Corner definitely holds the old-time look and feel of days gone by when, some would say, Pattaya was much more fun.
First good news was easy parking just to the left of the main door and perched on a road facing stool meant a super people-watching viewpoint. Soi Buakhao really is the street that never sleeps and for Flirt Man he could just sit here all night watching the world go by. If nothing took your fancy inside the bar then wait long enough and someone will pass by that does. The street opposite is well known in the bar-girl fraternity as "Soi Dangmoo" and it seems every bar girl from South Rd to Soi 6 stays here.
Ok bar stool commandeered….. onto the bar itself. It seems they do have a happy hour but Flirt Man wandered in at 10pm when it was well finished but the San Miguel Light bill still only tallied in at 65 baht. Try getting that on Walking Street! As well as cheap beer they also have live music being played in the corner by a typical 3 piece Thai band doing the usual melodies about "a dust desert highway and mirrors on the ceiling" but it was still entertaining and the girls go crazy when the Thai songs kick in later in the evening. One point to make is that i suspect the seats near the band would be way too loud to enjoy your evening so defo one to avoid. Good news is that many Falangs got up to chant away and it mixed the monotony up a bit.
The staff in the bar fell into the category of "slightly mature" but seemed a happy bunch and never pushy. The large number of staff mean that if it's a bit of company you're looking for then you'll certainly find someone you like for a 20 min chat. Flirt man never buys lolly-water for the ladies and it didn't break the bank to pay 120 baht for a beer for his chosen companion. Most of the girls in here accepted that they weren't dealing with the regular 2-week millionaires with no clue about Pattaya, hence they were happy to sit down and get drunk and enjoy their evenings work. Buying beer serves the multi purpose of a more relaxed lady….more cuddly and slower consumption rate which in turn you get a win-win scenario!
Flirt man is always on a strictly "observing" mode so made no inquiry as to bar-fine prices but would guess standard fare would apply. The girls Flirt spoke to were pitching the line of a 12 hour day (6pm to 6am) but whether that was true or just the "company line" is uncertain.
The patrons seem to be all European with a fair few "cheap charlie" types getting pie-eyed and with the management being Australian, it tends to attract a good few Aussies. For those that don't like to use perched stool seating they also have a few sofas for snuggling up on a cold December night as well as some dining style seating inside.
To sum up Easy Corner Soi BuaKhao would be to say you'll have a nice chat with some established ladies with a lively band in the background but when the bill comes you'll leave with a smile on your face.
I liked it !!
8 out of 10
(* note band does not play on big match nights as sports shown on screens)
Next week will be deep in the heart of Chrimbo festivities so Flirt Man will be looking for the bars with the best festive spirit. Remember the Flirt Man is saying it like it is (without payment) and visits totally anonymously.