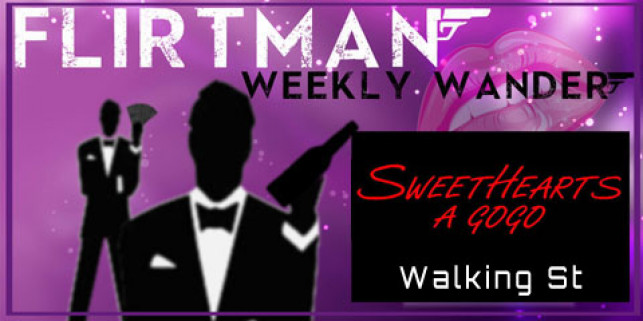 Flirtman Weekly Wander – Sweethearts Agogo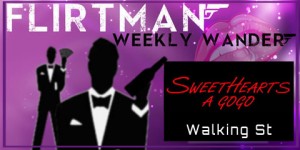 Our wander this week stays in the Walking St area and heads to probably one of the smallest gogo's in town (that award goes to hot & cold). We head to Sweethearts agogo located just before soi happy.
I mention the size as from the outside this place looks really slim and tiny but upon entering it turned into a "Dr Who tardis" as the unit is really deep. So appearances are obviously deceptive.
As weird as it may seem Flirtman had never ventured into this joint as the initial curtain glimpse you get from the street had made it look small, dark and more akin to a mirror table dance club (like the OLD Beach Club). Yes it has the separate coyote tables without a main dance stage but upon entering i was quietly surprised at what i found.
Apart from the size illusion it turns out it has women in droves and all seemed in great shape. After a good hour of gazing at the dancers i never seen one without big boobs so maybe it's written into the terms of their contract for the girls. It also turns out this is a european management run establishment and friendly too. This is quite unusual in the Walking St area and a pleasant surprise to be greeted personally and retain that "private party" feel.
When it comes to the music , the guys in here have got it right. They have stuck to basic rock tracks from yesteryear and if any of you reading this ever ventured into the famous "Champion" agogo a few years back (before the indian takeover). you'll know exactly the playlist. They have the standard reasonably priced draft beer, 65baht, in a decent size glass and the girls were friendly but never over-bearing. I'm guessing there isn't room for any shows etc but more research will need to be done to confirm or deny this and Flirtman has definitely added this joint into his next gogo run list.
The sweethearts agogo gets a good 9 out of 10 from Flirtman and is a decidedly "spit & sawdust" type joint ….and i say that as a huge compliment. These joints are getting harder and harder to find in fun town as they have all been replaced by neon clad, sterile, overpriced gogos. If the management are reading this…..don't change a thing….and if it turns out you had shows…the score gets adjusted to 10 out of 10 !
I think their slogan online says it all really : Girls, Drinks, Rock Music & No hassle !
Remember the flirt man is saying it like it is (without payment) and visits totally anonymously.