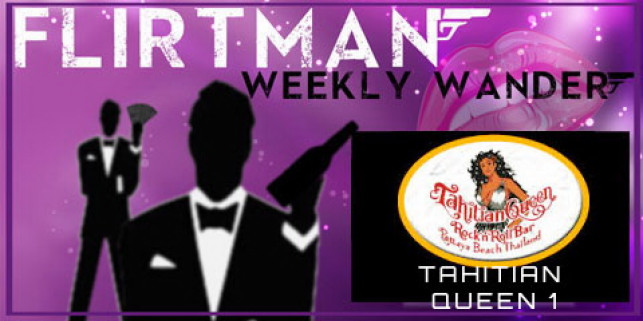 Flirtman Weekly Wander – Tahitian Queen 1 Agogo ( TQ1 )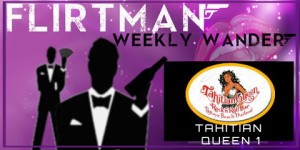 Hurray the curfew has been lifted in the Pattaya area and that means Flirtman hits the road again to go a wandering.
This week we journey back to a bygone era when men were men and women were glad of it ! 1978 to be precise. Whats that got to do with our wander i hear you scream at the screen……well thats exactly when this weeks venue was opened. I am of course speaking about the Tahitian Queen 1 Agogo located on Beach Rd. (TQ1)
This gogo has been known for a long time as the home of Jesters Motorbike Club and the display of Harleys parked outside is impressive.
Upon entering thru the curtain you are struck by the darkness and cave like appearance of the interior. Red lights and UV strips create a Disney-like set that should make for an indiana jones movie set and the walls have various polynesian murals adorning them. A centre stage hosted 4 girls this evening and it's the first time i have seen wooden poles danced around and strange ropes hanging from the ceiling for the girls to hold onto. Angled mirrors up top means that you always get a super view of the dancers although most were around the 5 out of 10 in looks department. Some had illuminous body paints and most wore bikinis that didn't exactly hide their pot bellies.
Music is strictly rock n roll and video based thru the 3 flat screen tv's (albeit small tvs). The music is at a suitable level so as to have a decent conversation and you can choose between cosy alcove style seats on 1 side or stools at the bar.
At the rear they have a kitchen which serves basic grub such as hamburgers and chips etc and the burgers did look of a good quality for 130 baht.
The jury was still out at this point and Flirtman could see the appeal of this joint in the rock n roll/biker fraternity although not strictly in the Flirtman fraternity but the nail in the coffin hit home when the bill for a small draft beer arrived at a whopping 115 baht. Thats right campers 115baht. I can only assume there either is a "members" price and outsiders aren't welcome or this place is so out of touch with other gogo establishment prices. Either way it seems the prices have changed since 1978 !
It is with great regret that Flirtman hits TQ1 with an abysmal score of 5 out of 10. In today's economic climate and with so many choices in town it just doesn't add up. They displayed a poster stating their up and coming party on 14th june…best rob a bank beforehand.
Seriously disappointing
Remember the flirt man is saying it like it is (without payment) and visits totally anonymously.