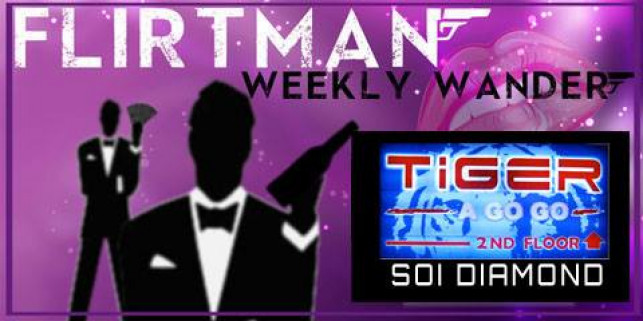 Flirtman Weekly Wander – Tiger Agogo Soi Diamond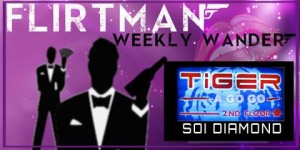 Yes the Curfew is OVER!!! But this flirt weekly wander was written while the Curfew was still in effect!!! Well the curfew is still in full swing and drinking (wandering) times are slashed to the bone this week again so it's a very brief weekly Wander blog you read. This week Flirtman wandered into Tiger agogo located on soi Diamond , off Walking st. This gogo can be a bit of a tricky one to find as its a stroll upstairs and kinda joins somewhat to the shark agogo (via an adjoining door)
The joint itself is a long thin red/blue neon clad place with a central stage of 6 poles running its length. Both sides of the stage has comfortable sofa bench seating or you can opt to sit more close up and personal at the bar stools hugging the stage.
Having opened in 2007 its one of the more established joints in town and it did seem quite packed this evening.
Onstage there were a surprisingly large amount of stunners shuffling away and all with smiles and fun in their step. Sometimes these obscure gogos can have a sour lot of dancers from time to time but this place had me making a mental note that it could be a little hidden gem with the fun factor.
If you are a connoisseur of music than this really isn't the place for you as the music is a bit run-of -the-mill gogo stuff and some would say a tad too loud but something that the management could easily fix should they be reading this.
Draught Beer (has to be Tiger of course) comes in at 70 baht and bottles start at 130baht. Flirtman didn't stay long enough to buy any ladydrinks as the midnight curfew approached rapidly but i kinda remember them being in the 120 baht range. I was also told that they do have some on stage shows from time to time. The service was fast and the European owners ensure a friendly safe environment in which to enjoy a beer and a laugh.
To sum up Tiger would be to say i was pleasantly surprised that it was such a good fun establishment as it's easily walked past and you forget its there sometimes…..but Flirtman will be back 7 out of 10
Remember the flirt man is saying it like it is (without payment) and visits totally anonymously.