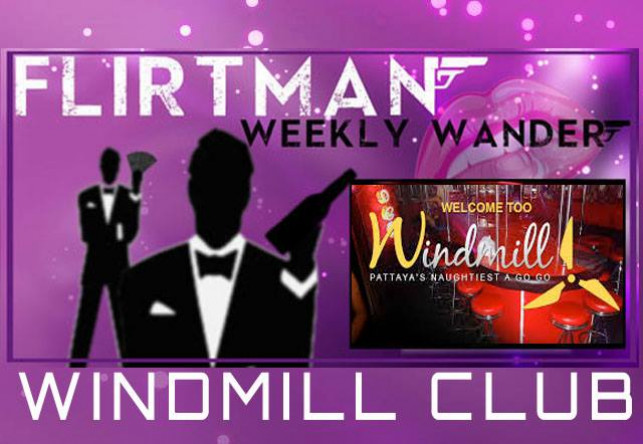 Flirtman Weekly Wander: Windmill Club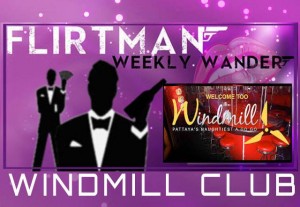 Flirtman is always scouring the Pattaya Forums as well as the twitter and Facebook feeds from all the establishments in town and a recent post asking for the naughtiest gogo's turned up this week's wander location: Windmill Club
The Windmill joint is located almost in the middle of Soi Diana (just off Walking St) and has been around since 2004.
On the evening Flirtman visited, the joint was full to the brim and subsequent visits have always been the same. I'm guessing this must be one of the busiest gogo's in Pattaya City.
The layout is of 1 main pole dance area in the centre with individual ladies dancing also at customers tables. They have a jacuzzi "constant shower"section right at the back and 80% of the bar is bench soft seating with around 10 high stools close up and personal at the main pole area. At the rear end of the main pole area are 2 soft "play stage" areas where various "activities" take place of which range from general spanking fun to more outrageous hard core stuff.
If the plethora of sexy ladies is not your stuff then the management have 3 large screen TV's running sports and 1 is even a direct Uk link to Sky Sports. A nice touch which is also available in the sugarbaby joint (same owner).
The management's motto adorned in the toilet is "pussy without attitude" and the girls did seem to have fun and not be pushy. There are a lot of girls in this gogo but none in the "stunner" variety but adequate none the less.
They serve draft beer all evening and even have a VIP card giving 10% discount (order over 200baht post 10pm).
When trying to give this place a score it's difficult to fault really. The place seems to be buzzin all night and everywhere you look there is something happening. A sensory overload. Yes it can be a tad too busy and strangely the dancing girls tuck their bags, shirts and pants underneath the customers drink tables (???) so obviously locker space is non-existant but it can also turn out to be the most fun your likely to have in this Sin City of ours.
I hate giving 10 out of 10 scores but i fail to see how i cannot.
Simply a mongers paradise
Windmill Club 10/10
Remember the flirt man is saying it like it is (without payment) and visits totally anonymously.