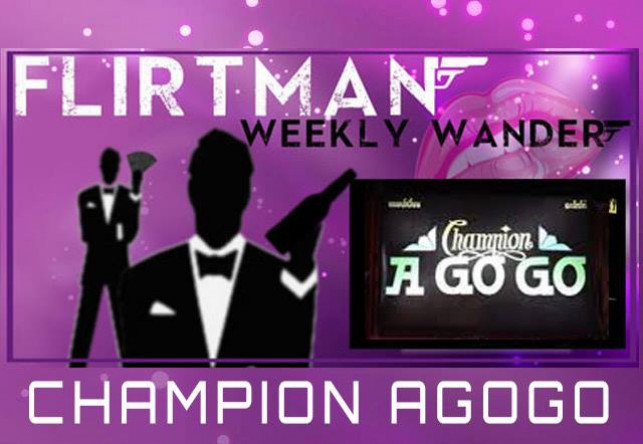 FLIRTMAN'S WEEKLY WANDER : CHAMPION AGOGO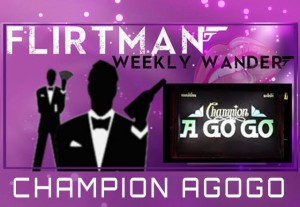 Lots of things are-a-changing in fun city especially around the LK Metro area. There's a better line up in Paradise, we got the official opening now of Malibu (by no less than Jimmy White – see Flirt newsletter) and the music mixes are unbelievable now in Crystal but Flirtman has covered all these joints in past Weekly Wanders so to keep things fresh i headed to Walking Street to one of the oldest establishments in town : Champion agogo.
To set the scene and give a bit of background, Champion is set just slightly off the Walking St (near the pier disco) and was the type of rock n roll joint that you wiped your feet when you left rather than when you went in. It catered to the slightly longer stay expat and the ladies were usually so old they were approaching going through the change of life. There was a grittyness in the atmosphere and porn movies streamed constantly on the rear tv screens. Flirtman spent many an entertaining evening perched on his favourite stool strategically positioned as to take in the perfect up-skirt angle at a strangely position raised gogo pole in the centre. (at this point long term mongers will be nodding at their PC monitor as they read).
All this disappeared when the management in their wisdom decided to break the rear shower area, dismantle the perfect perv raised stage and open their doors exclusively to the Indian market.
..and so onto 2014
Well the good news is that the clientele have resorted back to 30% european and a quick revamp has moved the DJ box to the entrance. They still do their super-cheap draft beer and surprisingly they now have showgirls at a fairly regular interval. For fear of crack-down city officials i wont go into too much show details suffice to say best to check em out yourself.
The music is still their unique brand of heavy rock and i'd put money on this being the same actual playlist since 2005. AC/DC & Ramstein must be retiring comfortably from the music royalties from this place.
The girls are now a lot prettier and younger and all seemed very happy to see a handsome european face such as Flirtman enter.
So my advice is go and check out the slightly new and improved Champion agogo…it's a wee blast from the past that Pattaya is so dearly missing now in the clinical, run-of-the-mill gogos that line the Walking Street
7 out of 10 for Champion agogo
Remember the flirt man is saying it like it is (without payment) and visits totally anonymously.