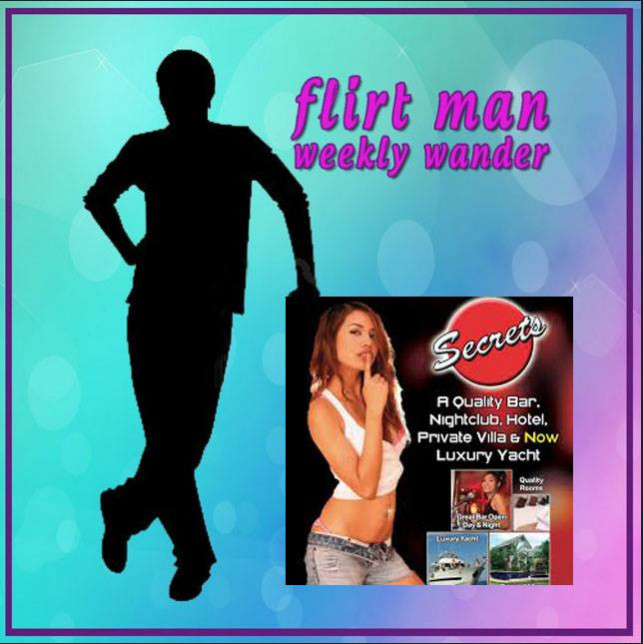 Flirtman's weekly Wander – Secrets Bar soi 14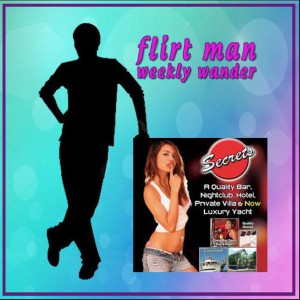 Flirtman's weekly wander is a somewhat quiet affair this week as the thai elections meant Pattaya was a "dry" town for most of the weekend so i boycotted the original idea of tryin to find Pattaya's worse gogo joint.(That'll be next weeks mission).
Never one to let bureaucracy stand in the way of a good wander, i instead headed down to soi 14 to the Secrets bar to see if there was a party going down…with or without alcohol.
It's been a long time since FlirtMan had put Secrets on his "crawl" list so it was certainly going to be an evening of re-discovery.
The first thing to note about this place is that it's difficult to pigeonhole it into a box and give it a typecast. It's not quite a gogo but it has some lovely coyotee dancing ladies. It's not quite a restaurant but the food menu reads like it could be. Being peckish i tried out the snack menu of mini cheeseburgers, large basket of frenchfries and potato wedges. Each dish comes in at 100 baht and for the sheer quality of the food it seems good value. I guess one of the "secrets" is that unbeknown to many pattaya residents is that you can easily wander in here at midnight and grab a high quality meal from their extensive thai or western menu. Nice to remember when you get the post beer munchies.
Back to the Bar/Club itself and the nearest description was probably nightclub albeit without loud ear popping music. The management seem to be aiming at high quality video jukebox stylee complete with HD music videos played throughout on large LCDs and if that doesnt entertain then the secrets dance hostesses are some of the best eye candy in town. The atmosphere is genuinely friendly and im guessing this is an ideal place for golfers to chill out after a hot day on the course.
The layout is a large square bar area around which there are high seat areas for wine-ing or dining or possibly 69-ing. The joint felt too high end to see any 69ing tho so maybe that goes on in their quality hotel upstairs..who knows . As the evening progressed the coke zero's got replaced by cold beer once the Boys in Brown relaxed the drink ban and the party started to kick in. A nice touch for FlirtMan to see both sides of the coin (sober and drunk) and it wasn't long before their long-time famous tower flamed cocktails were in full swing. Definetely something to behold and put on the to-do list.
Staff wise Flirtman was never hassled by the ladies and the service was fast and friendly with a falang manager hovering in the wiings to make sure everything was done to the high standards that this joint certainly has. With that i headed off still none the wiser as to whether this was not quite a gentleman's club but not quite a nightclub!
The overall Flirtman conclusion is probably somwhat unfair to secrets as Im guessing i'd need to return another "standard" evening or possibly during one of the famous secret's party nights to see how interesting those dark corners can get so the jury is out for a marks out of ten….for the moment. I will be checking out the Flirt-Pattaya website calendar to see when the next party is! One thing for sure is it's a classy joint with non-classy prices and in the spit n sawdust of dodge city, a welcome change.
Join me again next week when i pop into one of the more obscure gogos and see if i can find the worst one in pattaya and remember the flirt man is saying it like it is (without payment) and visits totally anonymously.