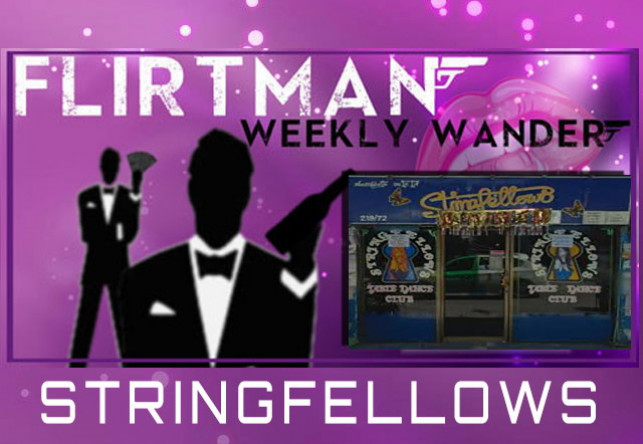 FlirtMan's Weekly Wander : Stringfellows agogo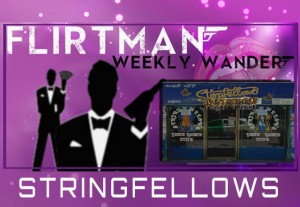 This week's wander is a somewhat different detour from our mainstay of Walking st and LK gogos because of an unusual up and coming event.
For those that dont know, next week The Areca Lodge Hotel once again plays host to the annual Ladyboy Water Volleyball Tournament so with this in mind Flirtman thought it only fitting to check out some of the contestants before the event. One of the favourites in this tournament are the team down at Stringfellows agogo in Soi Yamoto so Flirtman went a wandering to explore territories unknown.
The first thing you notice about this place is it's small…very small with basic bench seating on either side of a few stand-alone chrome poles. if you like your gogos well lite then best to go somewhere else as you'll need night vision goggles in this place.
Of course this wont be the first thing you notice….the first thing you'll notice is the squeeze past 4 or 5 lovelies outside and then a few more inside gyrating in front of you….and no thats not socks stuffed down their bikinis !
Legends say that Ladyboys are actually the reincarnation of men who made love to many, many women in a former lifetime: so that they now permanently carry the spirit of women in their bodies and who is the Flirtman to argue !
They really are a fun lot in this bar and not once was the Flirtman hassled in any way and it wsn't half as intimidating as expected. Looking around the place i noticed 2 gents chatting away in the corner and i would be guessing one was the falang owner or manager so it's good to see a boss keeping an eye on staff and keeping customers happy and safe.
The beers in here are reasonable at 100 baht and i believe the ladydrinks are only slightly more expensive but this place is certainly not gonna break the bank for an unusual night out.
The Music was pleasant and not overpowering that you couldn't chat and most of the girls in here are not ony good looking but also speak good english.
Whether ladyboys are your thing or not, this place is a super place to visit at least one time and for a novice to this "world" it can be quite an eye opening experience depending on how many other customers are indulging-hands-on beside you.
This little gem of a bar gets a 8 out of 10 for the sheer no-hassle of it all as well as some of the best looking ladyboys in town, you might even forget they are of the 3rd gender.
Flirt Pattaya will be down at The Areca lodge Nov 1 to catch the Stringfellows team in action and wish them all the best in stealing the trophy from last year's winners "Sensations Bar" (action st)
Remember the flirt man is saying it like it is (without payment) and visits totally anonymously.