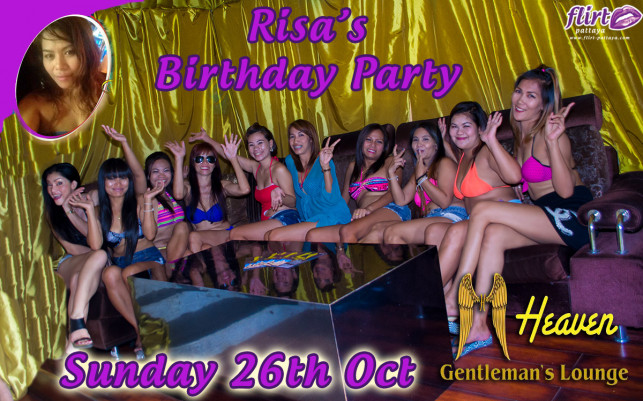 Heaven's Gentleman's Lounge Club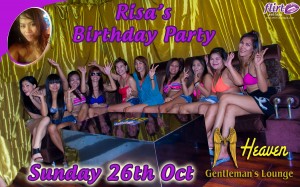 Risa's Birthday Party
There have been a few changes up the Pratumnak area in recent times what with the current low numbers in tourists etc, you'd be forgiven for thinking that some places might have closed their doors but surprisingly there are always winners and losers and when Flirt got an invite to Risa's Birthday Party at Heaven Gentlemans Lounge Club, we just couldn't resist to re-check out the place.
Risa is the new head honcho at the club, cracking the whip and making sure all the customers have a jolly good time so we knew this party was gonna be somewhat special.
As we walked through the velvet entry curtains a hoard of party-goers hogged nearly every seat. So much for low season! For those who have never ventured to this place (soi kasetsin 11 near cosy beach) it's a plush lounge environment with comfy sofas and high stool /dancing areas too. Further in the lounge there is a bar area to perch at and even further round the corner is a semi-private 2nd lounge room. Outside we have a nice 3 circle swimming pool to cool down in as well as garden furniture seats and relaxing loungers. Should you feel errrr……tired…they have some rooms for rent upstairs too.
There is a nice selection of friendly girls (see pic) who will greet you with a smile and we were never hassled to buy drinks on this visit.
For today's party the management had booked a good thai music band complete with gyrating dancers and laid on pig-on-a-spit and buffet food. As the night wore on it all started to go pear shaped (in a good way) with pole dancers galore all in a state on undress , fire eaters and magic shows. To say any more would simply spoil their next party. ( they have regular ones as well as their 1 year anniversary coming up soon)
Keep in touch with Flirt-Pattaya newsletter and/or facebook page to get details of all up and coming partys or even better, get along to the flirt website to check out all our reviews, girls, videos and much more. www.flirt-pattaya.com