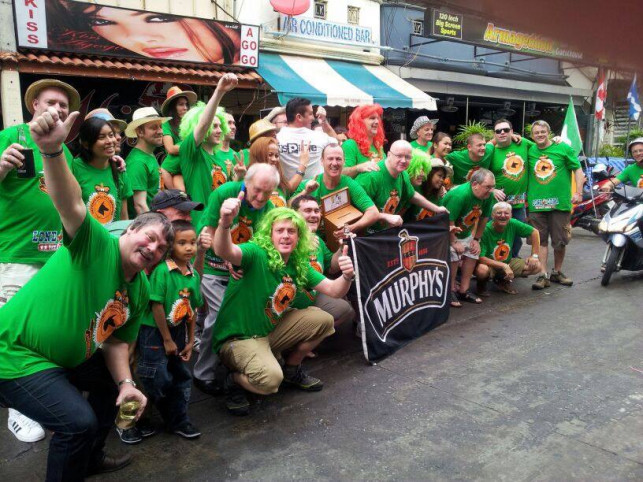 Murphys Law & Flirt join forces to support charity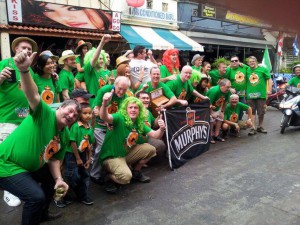 Flirt have teamed up with Murphys Law Irish Pub this year to support the good cause of the Father Ray Foundation. Murphys Law enter the Pattaya International Bed Race every year and have by far the biggest following. Although they don't have the best 'Bed', this year there will be major improvements thanks to the many companies from around town that have put funds forward this year. We will have around 80 shirts & wigs ready to buy on the day and all proceeds will go to the charity. Murphys Law consciously come 'last' every year to make sure they get major exposure from the event, with most major national and international TV covering the event, such as BCC, Fox and many others.
The day will proceed as follows:
1.00pm – Meet at Murphys Law Irish Pub in LK Metro – All drinks at Happy ours prices with live DJ (Brooksy from 105 FM)
3.30pm – Depart for the start of the bed race
4pm Start of the race from Central Festival 2nd Road – finish at Walking Street with presentation (Murphys always come last to ensure they win a prize and gain exposure)
7pm – Back to Murphys Law with Live DJ, Free Raffle prize draw, fun & games
For 500 THB come along and get your shirts, green wigs and free raffle prize draw tickets.
Thanks to all our sponsors for the 2014 Pattaya International Bed race
Defense International Security Services
Inspire E-Magazine
Sportsman Pub & Restaurant
The Booze Lounge
Oscars Agogo
Flirt Pattaya
Thai T-Shirt Factory