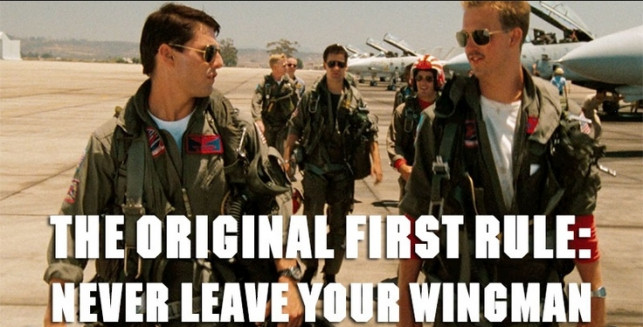 'Never leave your Wingman' or 'Fly Solo'
A Wingman is a guy that you bring along with you on singles outings to the bars that helps you out with women. In Pattaya a good Wingman can be a whole lot more than that. Thailand is much safer than many countries for visitors and expats alike, Pattaya is very tourist friendly on the whole, however, it's advisable not to 'Fly Solo' especially if your Wingman is a Pattaya veteran.
There are many safe restaurants and bars where you can eat, drink and be merry in the city until the sun comes up, but the more intoxicated you become, the more likely it is that you will be targeted by local criminals. If you don't know where you are either the dangers increase exponentially, particularly if you are alone. Most foreign visitors who visit Pattaya have a great time with no problems, especially if they stick with their Wingman. Even if neither of you know where you are, you are much less likely to be mugged by lady boys or robbed by a teenage motorcycle gang than if you are alone.
A night out with your Wingman has lots of benefits too. You will be more confident and generally will have a better time because if you are both exploring new bars and locations together you will be more comfortable with the unusual surroundings, goings on and new people. Also as the night progresses you can egg each other on and generally get involved with activities that you can brag about with your mates back home. Some chaps are happy to fly solo, but have no back up to their great adventure stories when recounted. It always sounds so much better and believable from a third party!
Here are some ways a good Wingman will help your night go with a bang. (Don't forget it's your turn to be Wingman the next night out…);
Girls often come as a pair and the role of your Wingman is to entertain the less attractive of the two leaving you the hot lady!
The Wingman will automatically engage with the ugly Betty leaving you free to chat to her beautiful friend. Your lady of choice is much more likely to let her hair down if she sees her friend having a good time!
You're in Thailand, you really don't have to work too hard on any of this charade! Ask them back to your place (Usually the Wingman asks the wife of Frankenstein first) , if you're in a bar it will cost you a bar fine unless the girls are truly freelance.
Getting back to the safety issues, a good Wingman looks out for you and you look out for him. So if there is any trouble heading your way you are twice as likely to see it. Also if one of you does end up in hot water the other can help to calm things down, look for a quick exit and so on. It's best to avoid any physical confrontation in Thailand with Thais. After all it's their country and you are a visitor who is probably drunk and taking full advantage of the local talent. Also it's worth knowing if you pick a fight with a local guy, you are inviting his friends to join in too. The rules are very much different than in the UK.
It is easy to think you can do what you like in Pattaya, sometimes you can and will get away with it, other times you won't and you might end up in Soi 9 Police station for the night. For example it is illegal to ride a motorcycle whilst intoxicated with alcohol! Your Wingman, if an experienced veteran, will advise catching a baht bus or at the very least will know a safe route home.
Remember, you should always wear a crash helmet when riding a scooter; but you can take it off when you go in a bar!
"You Never, Never leave your Wingman." Topgun 1986.