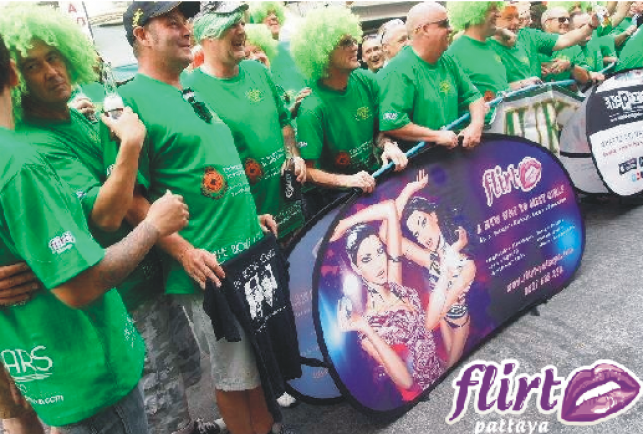 "Pattaya International Bed Race a Success"
As we reported last week, www.flirt-pattaya.com teamed up with Murphy's Law Irish Bar this year to raise as much money as possible for the Father Ray Foundation. This year was by far the biggest and best turn out by the Irish boys the race organisers had ever seen!! The day started at 1 o clock, of course in Murphy's bar. Steve the madcap owner had the Irish music playing and within an hour 60+ revellers were in the bar, time for the flirt team to sell the T-shirts and the wigs, all T-shirts sold out in record time and we are estimating approximately 40,000 baht was raised for the Foundation.
The race started at 4 o clock outside the Central Festival Mall on Beach Road, Murphy's Law was late as usual giving them the prime position of last, behind all the other bed racers!! As the race starts we see all of the other teams flying towards the finishing line running as fast as their little legs will carry them, Murphy's team have walked (not ran) 20 steps and then stopped for a pit stop, (the Irish definition of a Pit stop – a few  beers, a cigarette and a good old Irish sing song with the many spectators along Beach Road). 6 pit stops later the Irish team crossed the finish line a little worse for wear!!! After the presentation on walking street and Murphy's receiving the wooden spoon award yet again it was time to head back to the bar for more fun and games.
Flirt & Murphy's Law would like to thank all of the sponsors for the 2014 Pattaya International Bed race,
Defence International Security Services – http://thailand-security.com/
Inspire E-Magazine – http://www.inspire-emagazine.com
Sportsman Pub & Restaurant – http://www.sportsmanpub.com/
The Booze Lounge – http://boozeloungepattaya.com/
Oscars Agogo – http://www.oscarsagogopattaya..com/
Flirt Pattaya – http://www.flirt-pattaya.com/
Murphy's law – http://irishpubpattaya.com/
Thai T-shirt factory ­- http://thaitshirtfactory.com/