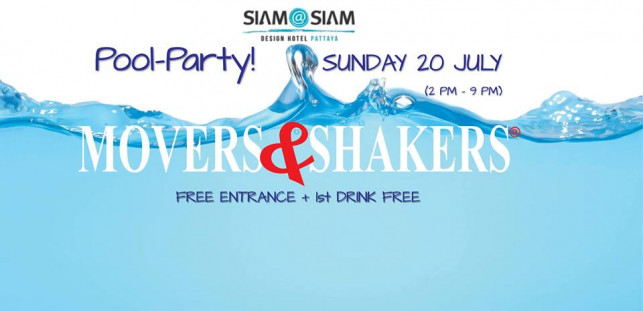 POOL-PARTY by MOVERS & SHAKERS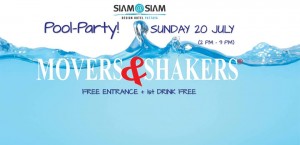 Date:  SUNDAY JULY 20 | 2014
Venue:  SIAM@SIAM Design Hotel PATTAYA
24th fl:  DEEJAY POOL DECK
25th fl:  LOUNGE BAR POOL
2 PM – 9 PM
***FREE ENTRANCE AND FIRST DRINK FOR FREE***
SPLASHING THE POOLS:
SIAM @ SIAM Design Hotel PATTAYA
Introducing the very 1st and EXCLUSIVE monthly pool-party hosted by MOVERS & SHAKERS!
Venue Sponsor Siam@Siam Design Hotel Pattaya:
www.siamatpattaya.com
MAP: www.siamatpattaya.com/contact-us
ATTRACTIVE ROOM RATES [PROMOTION]
Available upon application especially for M&S guests!
DRESS-CODE
SEXY & SUN-PROOF
F&B PROMOTIONS
SPECIAL FLAT-RATE sensation for ALL drinks: THB 100 NET and special bottle-promotions + mixers!
POOL-SIDE Barbecue and special TAPAS/SNACK menu available ALL DAY long!
ENTERTAINMENT
24th fl: DEEJAY POOL DECK
An ongoing show-performance of (International-) deejays and artists! An amazing sound-/light- & special effects system makes the music "UN'BEAT'ABLE"!!!
25th fl: LOUNGE BAR POOL
CHILL-moments "Under the STARS" in our special LOUNGE BAR POOL with easy going lounge music and chilled beers provided by sexy hostesses.
Enjoy STUNNING panoramic skyline views as you have NEVER seen them before!
Remember: LOVE HAS NO LIMITS!
DON'T DRINK – DRIVE – PARK-SMART
Use public transport or drive/park smart and sober.
SIAM@SIAM offers limited in-house parking. Alternatively use the parking facilities at BIG-C Festival Centre across the street.
Movers & Shakers previous events seen on our own YouTube Channel:
www.youtube.com/user/MoversShakersBangkok
ADMISSION
VIP-TICKETS to the VIP-areas are available for ALL!
Everyone is welcome as entrance is 100% FREE!
Siam@Siam Design Hotel Pattaya
(2nd Road opposite Big C Festival Center)
Tel: +66 (0) 3830600
Email: info@siamatpattaya.com
MAP: www.siamatpattaya.com/contact-us
_____________________________________________
Contact: events@moversshakerscharity.com
Mr. Emanuel Mekel | Executive Operations Director
www.facebook.com/emy.mekel
+66(0)81-848-1258
Paul Strachan | Media Consultant
www.facebook.com/paulie.strachan
+66(0)85-280-2611
Mr. KC | Founder | +66(0)86-666-7238
Managing Partner of Town & Country Property
www.TownCountryProperty.com
www.facebook.com/kcpattaya
www.linkedin.com/in/kcpattaya
+66(0)86-666-7238
M&S Bangkok: www.facebook.com/Moversshakerscharity
M&S Pattaya: www.facebook.com/MoversShakersPattaya
M&S Chiang Mai: www.facebook.com/MoversShakersChiangMai
M&S on Meetup: www.meetup.com/Movers-Shakers-Corporate-Networking-THAILAND
M&S on YouTube: www.youtube.com/MoversShakersBangkok
MOVERS & SHAKERS
AMAZING EVENTS THAT WORK!
12/12 Lumpini House 4A | Sathorn Soi 2 | Bangkok 10500
WAIVER
All terms and conditions are subject to changes and/or review without limitation without prior notice.
www.MoversShakersCharity.com
Copyright © 2009 MoversShakersCharity.com
All rights reserved