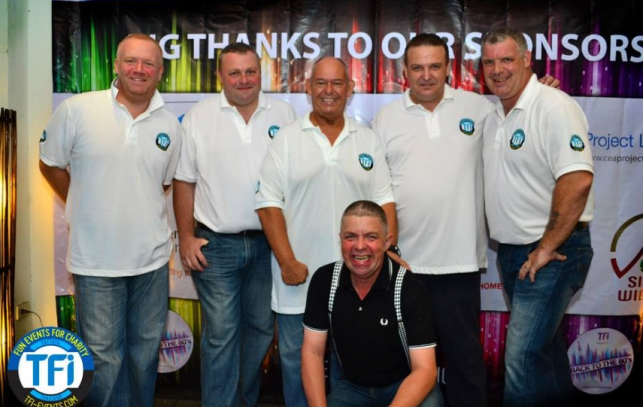 TFI's Back to the 80's raises 113,000 baht.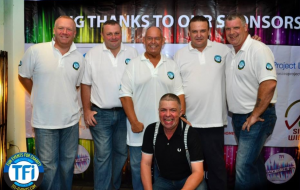 TFI's Back to the 80's raises 113,000 baht.
The TFI guys above that make these great events happen!!!
The TFi are a group of local guys who give up their free time and are dedicated to helping those who need it.
Earl C. Brown, Matt O'Sullivan, Rodney James Charman, Paul Strachan, Nick Lawrance and Joe Cox
It was a year ago that TFI was born and there 1st ever event was held at The Access Inn on 3rd Road, so 1 year on and there was no other place they would rather hold the 1st Anniversary than back at The Access Inn.
These events are only possible by the generosity of the sponsors, so a big thank you to Universal Group, Mobile Advertising, Voova Group, CEA Project Logistics, Defence International, The Booze Lounge, Hometown Property, Siam Winery, Access Inn and DJ's Howard & Dave D.
The theme was of course from the 80's era as before, many people arrived in fantastic 80's outfits!! So a quick photo and a game of twister was on the cards before heading inside. With free flow wine and free flowing beer being served by the Heineken & The Access Inn girls it wasn't long before the dance floor was full and everyone was showing off their best dance moves!!! Spinning the decks for the evening was Dave D, the popular TV and radio presenter whoplayed all the classic tunes from the 1980's.
In addition to the great music there was also a raffle with some fantastic prizes donated by some very kind people, including:
2000 Baht dinner voucher for Ruffino at Centara Grand Pratamnak, 1000 baht diner voucher for Oceana at Centara Grand Pratamnak, 700 baht voucher for the coffee shop at Centara Grand Pratamnak. A Complimentary Meal voucher for 2 people for the Indian Brunch at the Rang Mahal at the Rembrandt Hotel in Bangkok. Pet spa for dog or cat courtesy of the Papmpered Pet. 500 baht meal voucher for Curry & Chip  and an Eco Brand power Saving device from Eco Savers and much more.
A staggering 113,000 baht was raised and this money will go to help Thai people in need. Well done to everyone who attended, this money will surely go a long way.
For more information on what TFI are planning in the near future you can follow them at, https://www.facebook.com/funcharityevents