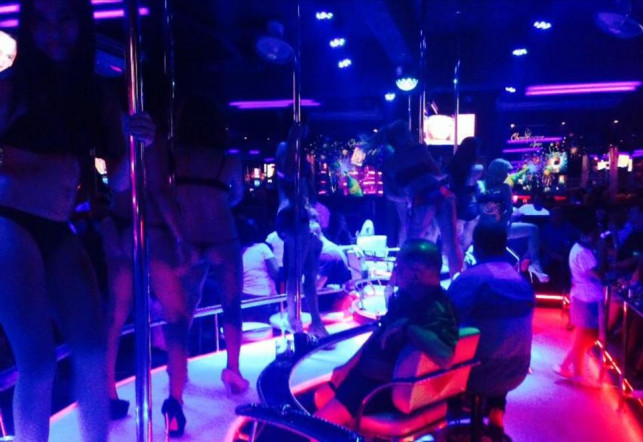 The art of seat location when visiting A-Go-Go. What's best and why?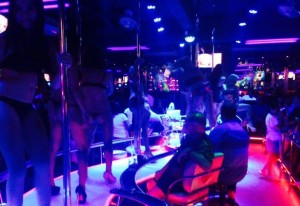 When you enter an A-Go-Go, following the usual greetings and fun and games with the girls that greet you with the expected "Sa wat dii Ka" and polite Wai, you will be directed where to sit. Some serving staff and mamasans can be rather insistent where you sit, but you normally have a choice if the bar isn't already packed! If alone, you may wish to sit at the back out of sight, especially if you don't want be seen by everyone entering the bar. From this location you can often view the whole bar and this can be a good spot to people watch, if that's your thing! Also following the four questions from your girl guide, you may wish to buy her a lady drink and have a cuddle in the back row whilst you watch the show. The girls tend to feel more relaxed here as all eyes aren't on them. It's a similar to taking a young lady to the cinema, if you're looking for a kiss and fondle the back row is the place to be! If you sit in the middle or front you've paid to see the film!
The middle of the club can be a good place to be if you're feeling a little more confident and you still get a good view generally of what's going on. Here you will be approached by the less shy girls and you may well end up with two or more entertaining you, especially if you ring the bell and are flash with the cash.
If you really want to get stuck into the action and get a close up view of the dancers and shows then it's the front row for you. Here you can get the full effect of the hypnotic dancing and you can directly flirt with the girls with the best moves. When the shift changes the lady or ladies you have been giving the eye too will generally come and say hello and you now have the opportunity to get to know her and her friends a little better. It's worth bearing in mind that in some A-Go-Go's the best looking dancing girls are not available to bar fine, their job is to lure the guys in and keep them there buying drinks for them all night!
If it's your first time to Pattaya and the A-Go-Go scene and you're lucky enough to have an experienced wing man, he might well fly you straight to the close up action. This will make for a memorable visit, just try not to fall in love with the first girl who smiles at you with her come to bed eyes!