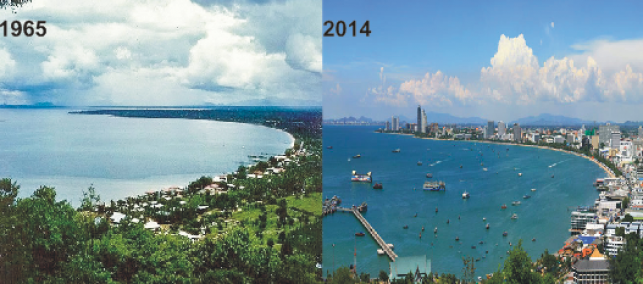 The changing face of Pattaya.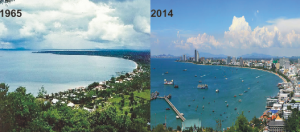 50 years ago Pattaya was a simple fishing village with very few buildings and people compared to the city we know today. The Vietnam War brought many American troops and sailors to the area and the need for R & R facilities grew. Many Thai people from Issan and other poor areas of Thailand began to migrate to Pattaya in order to earn better money from the soldiers and sailors taking a break here. Marine Disco on walking street gets its name from the visiting US Marines that they used to entertain back in the day. So Pattaya steadily became the number one South East Asian location for sex tourism.
Pattaya has rapidly developed since the 1960's and in recent times there has been a major shift in the type of tourist and ex pat visiting the city. Many 5 star hotels, restaurants and family orientated attractions have been and are being developed here and the local and national authorities are keen to clean up the cities sleazy reputation. The NCPO, together with the recently appointed Government in Thailand, have already begun cleaning up Phuket and Hua Hin and have removed many illegal vendors and properties on the beaches. They have also addressed issues with overpriced taxi services in Phuket and corruption. The Government, together with the NCPO, aim to deal with all corruption in Thailand. This is a major undertaking and will take time, however, in the long run it is a worthy pursuit, but will inevitably affect many people in the transitional period.
Pattaya is next on the list for cleaning up. The newly appointed Pattaya Chief of Police has made it his mission to rid Pattaya of prostitution, crime and corruption. The local authorities are currently starting to implement regulations and laws that have been set in place. What does this all mean for Walking Street and the infamous Soi 6 and so on? Well, the beach side properties of Walking Street are technically illegal. All these bars, clubs, restaurants and A-Go-Go's have been built on public beach land owned by the Kingdom. Such properties are already being removed in Phuket and Hua Hin, but Walking Street is a multi-billion Baht street, to remove all the illegal properties would be catastrophic to local tourism and trade. But, if Pattaya is to clean up its sleazy name then at least the sex shows and A-Go-Go bars will need to be removed or re-located. Bangkok cleaned up its act many years ago and now there are only 3 main relatively small areas where you can visit A-Go-Go's.
5 years from now Pattaya will almost certainly be a much more family orientated city. It will be almost impossible to eradicate the sex trade from the area completely, so relocating to more discreet areas of the city away from the beach makes sense. If you own a club or shares in a club on the beach side of Walking Street, Beach Road, Soi 6, Soi 7 and Soi 8, it could be a good time to sell up. Alternatively, hold fast and in a couple of years it will be business as usual…However, this recent coup and military take-over has brought sweeping changes to Thailand and the authorities are currently not relaxing their plans to clean up corruption and all illegal businesses.
If you are the kind of guy who enjoys the night life and all Pattaya has to currently offer, now is a good time to visit before it becomes a thing of the past….Maybe!