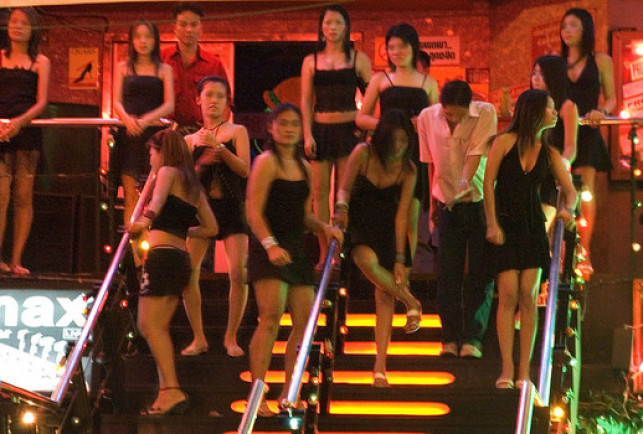 Unusual places to visit to meet a Thai girl
Immigration – Recently a Danish expatriate visited Immigration to get his 90 day Visa stamp only to discover that he was one month late! Over stay fines are normally 500 Baht per day, but if your over-stay is a long time you can be thrown in jail and deported. The guy was a little worried and was looking at a fine of over 15,000 Baht at the very least. It soon became apparent that the young lady officer dealing with his overstay problem had taken quite a liking to this Viking! To cut a long story short she asked all sorts of personal questions, did he have a girlfriend etc. The Great Dane soon realised that if he went along with this flirtatious lady he could be on par for a get out of jail free card… He was right, she organised his renewal and he got a brief telling off from the officer in charge about being more careful to check the date next time! 'I've always had a thing for ladies in uniforms' he later reported at a local beer bar!
Lady boy bar – If you like the challenge of finding a needle in a haystack then visit a ladyboy bar and see if you can find a young lady! You may have to resort to Paul Hogan's 'Crocodile Dundee' approach to find your lady, but even then you could be wrong! Some ladyboy bars do have young ladies working there on the tills or managing. Many do not! If you like something different then this could provide hours of fun and entertainment for you and a very brave wingman, definitely not for the faint hearted. And it is worth noting if you handle the Katoey's toys some sort of payment is usually required or you might end up finding out just how dangerous a stiletto heel can be.
Hospital – To pull a nurse you need to be patient, or in this case a patient! If you are unfortunate enough to require hospital treatment at some point, maybe for a motor cycle injury or you've sprained your ankle after falling off a bar stall, you will soon realise just how lovely a lot of Thai nurses are. Oh yes indeedy! And, they don't play the pink oboe for a living either! So if you fancy a more educated young lady who doesn't have a motorcycle taxi rider boyfriend and 4 farang sponsors this could be a great opportunity to turn a mishap into a positive experience. Obviously, if you do manage to chat up a lovely bit of totty you won't be taking her to LK Metro for a night out with the boys. Maybe an evening at a nice restaurant followed by a romantic chick flick at the cinema will convince her you're a good boy really!