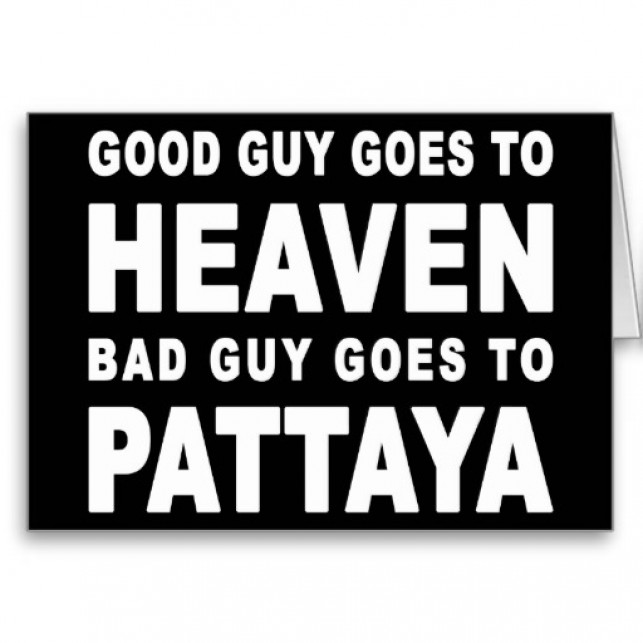 10 things real men do in Pattaya
1./ Skydiving – Fancy throwing yourself out of a perfectly serviceable small aircraft at 13,500 feet above Pattaya? Imagine falling at 200kp/h and free falling for nearly one whole minute followed by several minutes of decent to terra firma once your instructor has opened your parachute. This is top of the list for 10 things real men do in Pattaya, but not the most dangerous as you will be strapped to your instructor! You will be awarded a Tandem Parachute Jump Certificate upon successfully reaching the ground and you can purchase a video of your adventure including pre and post jump footage and of course, plenty of swearing and screaming during your descent. Visit http://www.skydivepattaya.com/ for more details.
2./ Bungee Jump – So you rather enjoyed your tandem parachute jump but now want to experience free falling without having to join a sky diving club and training for months. The next best thing is a Bungee Jump! There are several Bungee Jump providers in and around Pattaya, Flirt can highly recommend Jungle Bungy Jump. They are located on Soi 87 off Sukhumvit Road and offer professional service at a reasonable cost. Visit http://www.bungeethailand.com/ for more details.
3./ Parasailing – For the more sedate feeling of flying Parasailing is the way to go. Many Parasailing tourists can be seen on a daily basis off Pattaya Beach Road being towed across the bay, it's quite a sight! Early morning is best as it's not so hot or too busy. (Most party people are still in bed up until 11 am and even midday!) You will be required to wear a harness and life jacket for your safety and you will be towed on a long rope up to a 100M or so in length. Flights can be booked from your hotel and on Kiosks along the Beach Road. Parasailing in Pattaya Bay usually takes up around a half hour of your time, but you will only be airborne around 1 minute. Pattaya Parasailing is a bit of a production line, especially in high season. For a more laid back service visit Jomtien Beach just a few kilometres South of Pattaya. (Pattaya prices vary, anything from 600 Baht upwards, you can barter. Best deals are won in low season and if you have a Thai speaking lady or guy with you and if you go with a group of friends.)
4./ Ultralight Flying – Flying in an ultralight aircraft, known as a Microlight in the UK, will certainly give you a panoramic view of Pattaya and the local islands such as Koh Larn and Koh Pai and a good opportunity to take some awesome aerial photographs. How safe are ultralight aircraft? They do vary somewhat, but most have a very good glide ratio so can make a reasonable landing if the engine cuts out and some have a parachute attached for emergency landings. There are 3 different airports near Pattaya that offer Ultralight introduction and joy-riding flights, Pattaya Airpark 7 miles Southeast of Pattaya, Eastern 3 miles East of Pattaya and Dok Rai 17 miles East of Pattaya. There are also two Ultralight Airports with full instruction facilities and classrooms at Chonburi Airport and Ban Bung Airport approximately 25 miles Northeast of Pattaya.
5./ Scuba Diving – There are many Scuba Diving centres in Pattaya, the best advice for picking the right one for you is to surf the Internet and check out reviews on websites such as http://www.tripadvisor.co.uk. Most centres will cater for all levels of experience from beginner to expert. The best dive sites are located about 20km from Pattaya at the Far Islands. These islands are looked after by the Thai Royal Navy ensuring that only divers and snorkelers enjoy these waters. These islands have beautiful white sandy beaches and are ideal for beginners and experts alike. There are around 20 different dive sites in this area where you can see coral reefs, ship wrecks and tropical sea creatures that will simply amaze you.
6./ Hire a scooter – The easiest, but most dangerous way to get around town in Pattaya is on a scooter. You can negotiate traffic and parking is far easier than a car. You can hire a basic modern 125cc scooter from 200 Baht a day and they are cheap to run. Petrol in Pattaya is around half the price it is in the UK! SAFETY – You really should to wear a crash helmet when riding a scooter! There are many scooter and motorcycle accidents in and around Pattaya every week, it is not unusual to see foreigners killed on the roads too. You should not be complacent in any way when riding along the sois of Pattaya, even experienced riders get caught out. This should be considered the most extreme and dangerous of the 10 things real men do in Pattaya, closely followed by number 10!
7./ Eat Bugs – Many different street foods are available in Pattaya, including fried bugs! This includes everything from grasshoppers, bamboo worms, silk larvae, crickets, weevils, ant queens and scorpions. If you decide to indulge photographic evidence will no doubt save you from a second visit!
8./ Get Drunk & Completely Lost – You can only truly achieve this if you are a new comer to Pattaya. The less you know the town the easier this is to achieve. Firstly travel a couple of km or more from your hotel on a baht bus then go on a bar crawl and when you can just about still stand up try and work out where you are. If you have no idea, you have achieved and passed number 8 on the list. It is advisable to take a wing man, however real men do no 8 solo! Now the fun begins, especially if you do not speak Thai and next find yourself trying to explain where you are staying to a motorcycle taxi driver…..
9./ Sleep On The Beach – As a result of becoming drunk and completely lost you may decide that sleeping on the beach just the other side of the road looks like a good option. Not recommended in the busier locations that can be frequented by opportunist pick pockets, lady boys and local police. However, if you find yourself in a more desirable location, such as on a 5 star hotel beach with deck chairs, you might just succeed in completing number 9! It's advisable to make a move soon after sunrise so as not to attract too much attention and end up looking like a cosy beach lobster.
10./ Chat Up A Ladyboy – Real men chat up ladyboys? Some do without realising they have chatted up a guy until they get back to the hotel room, h'mm… You've paid your bar fine should you or shouldn't you?? Many ladyboys, or Katoeys as they are known in Thailand are better looking than the girls, that's a good first indicator. Secondly, but not always is the voice, then hand and feet size. Many have not had the big op, so this is the deciding factor if things go that far… So number 10 on the list challenges you to chat up a ladyboy and politely leave when things get a bit weird, that is unless that floats your boat!